Description
Glass filter mini bag
1. Improve water filtration efficiency.
2. It is small, compact, easy to ship, easy to transport.
AFM® mini bag (Glass filter mini bag)
AFM® ng mini bag dimension
Size bag
H = 49 cm
W = 35 cm
D = 6.5 cm
3. Contains AFM® glass filter media as mix-grades #1ng and #2ng filters in one bag.

4. Easier to use
Whether it is put in the filter tank Because the bag is small, easy to lift
In the bag, there is a filter ready for work. There are 2 mix-grades number #1ng and number #2ng that the company has calculated.

5. It is economical as it is required less quantity than other filters when comparing the ratio differences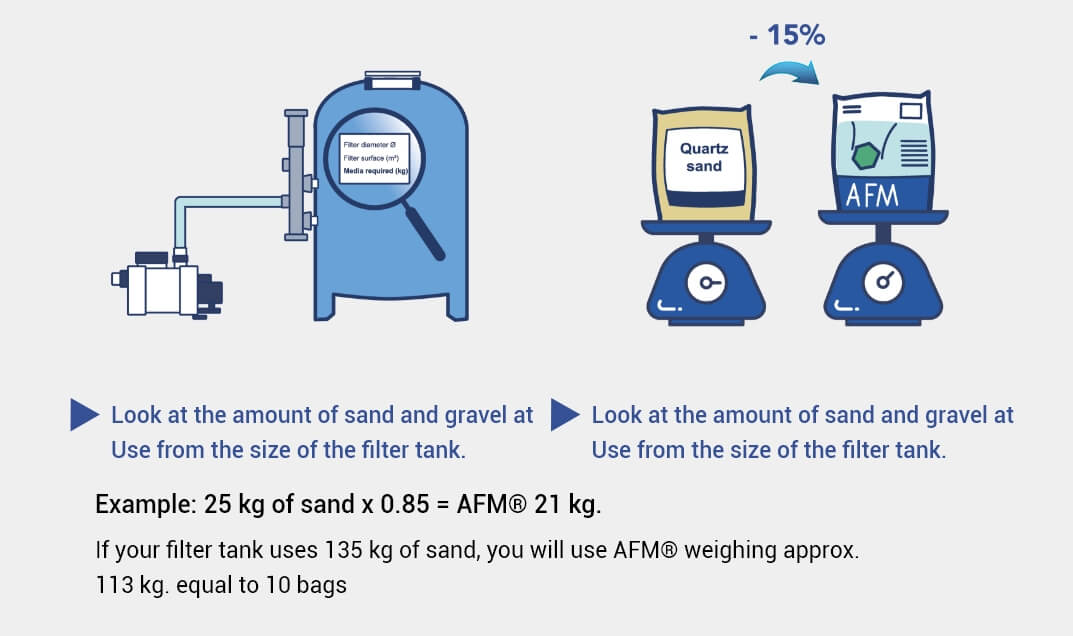 6. The amount of use of AFM® 50/50 glass filter is to use AFM® glass filter No. 1 ng 50% and AFM® glass filter No. 2ng 50%. There are 3 advantages of using a 50/50 ratio. as follows
Improve filtration efficiency by reducing the filter layer, filter number #1 ng from 70% to 50%, the filtration quality is more effective than before, and filter number #2ng, in addition to acting as a secondary filter number 1 It also serves to help filter as well.
Reduce filter loss when using 50/50 ratio, filter media will reduce diffusion and preventing it from falling out of the filter tank
Reduce the filtration pressure loss compared to 70/30 and 50/50 ratio. It can be seen that the 50/50 ratio has less pressure loss. The lower the pressure loss in the tank, the greater the energy savings and the reduced pump consumption and can prolong the service life of the pump for a longer service life
With the enhanced properties and improved water filtration efficiency of the AFM® ng glass filter media in an improved Mini Bag.
This makes the decision to choose the AFM® Mini Bag easier and I hope the AFM® Mini Bag will be among everyone's top choices when choosing a water purification solution.